HIOKI 8870-21存储记录仪上市
hioki 8870-21存储记录仪上市,上海君达现提供hioki 8870-21存储记录仪免费演示活动,如对数据记录有兴趣,我公司均可提供上门免费演示服务。
8870-21 记录仪各地咨询电话:
上海:021-51877860, 联系人:王先生
无锡:0512-88212415, 联系人:王先生
深圳:0755-83986402,联系人:睢先生
郑州:0371-60951290,联系人:张先生
广州:020-83649902,联系人:刘先生
存储记录仪8870-21隆重上市
不受时间,地点,环境的限制。轻松愉快地记录!
更小巧,更美观,更便捷
产品概要
深受好评的小型手机型存储记录仪8807-01(B5尺寸),体积较8807-01缩小了40%的8870-21登场了。手持形尺寸,重量是原来的55%。在海外出差和现场异常波形的分析功能大大加强。
输入通道为:模拟2通道(绝缘输入)+逻辑4通道,最大功率电压DC400V。最高取样速率为1M/秒的高速记录。 有内部存储器2兆Word(12bit),数据CF卡(最大1GB)保存功能,用个人电脑能显示·分析。外部接口用USB2.0标准选件,个人电脑传输CF卡的数据(8870-21本体连接USB存储器就能操作)。
产品概要
存储记录仪8870-21便于携带的尺寸,有向导设置功能,使用方便。打破环境限制的模式,无论谁,在何地都可以轻松使用的最新版记录仪。安全·放心·简单的记录功能
主要特长
远程操作,便于携带,操作简单
与以前的本公司的8807相比,体积是原来40%(缩小6程)的超小型尺寸。重量也减轻了600g,是名副其实的便携式。可以放入一般的公文包中,解决了之前出差携带不方便的烦恼。
简单的操作方法
装载了用法向导说明的「设定导航」功能,即使没有说明书,也可以根据界面指示来操作。捕捉瞬时波形的状态,记录,分析。设定画面下拉菜单一边观察波形,以便轻松设定。
PC的连接功能
用USB电缆与个人电脑连接,CF卡自动保存了的数据能自动保存到个人电脑上,操作简单。标准的应用软件显示并打印波形。通过CSV还能切换到EXCEL显示,传输数据,能用 USB2.0高速保存
超小型,1M取样调查/秒的高速采样记录
2MWord(12bit)的大容量存储器装载,超小型的外观,但有1M取样调查/秒的高速采样记录功能。捕捉瞬时波形,强大的对非正常波形的观察,分析和解析功能。
外形美观,QVGA-TFT液晶显示
采用的小型?量详细的表示质量的波形观测画面。4.3形式WQVGA-TFT液晶显示,小型但是清晰的显示。多方位的功能。
高电压,大电流的记录功能 (绝缘2通道输入)
存储记录仪8870本体采用DC400 V输入,使用差分探头9322DC2000v。AC1000v的波形记录。使用钳形传感器就能简单的实现AC1000A的电流测量。
主要用途
电梯维修
机动车的马达监测、启动实验
电源设备、机器的异常情况解析、实验,检测
马达、整流器的运作解析、实验,检测
出差,较远地区的实况检测
Easy recording, anytime - anywhere!
New Palm-Size MEMORY HiCORDER 8870-20 Now Available
HIOKI E.E. CORPORATION has developed the palm-size MEMORY HiCORDER Model 8870-20. International sales commence on May 14th.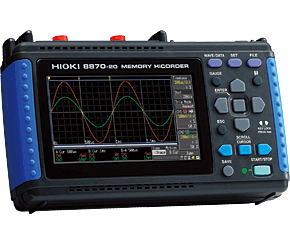 Product Overview
Building on the good reputation earned by our compact (B5-size) MEMORY HiCORDER Model 8807-01, we have further miniaturized HiCORDER volume by 40% for this new palm-sized model. Weight has also been reduced by about 55% from the earlier model, to 600 grams, but the new instrument nevertheless offers powerful analysis capabilities for abnormal waveforms, resulting in a handy, but high performance device that is portable and convenient enough to take along to onsite surveys and remote measurement locations.

Measurement inputs consist of two isolated analog channels and four logic channels rated at 400 V DC. High-speed recording is provided by a maximum sampling rate of one megasample per second. Two Megawords of (12-bit) internal memory is built-in, and data is saved to a CF card (up to 1 GB capacity) for display and analysis on a personal computer. An external USB 2.0 port is included for direct transfer of data from the installed CF card to the computer. (The 8870-20 appears like an external drive on your PC.)
Product outline
The HIOKI 8870-20 is a palm-size MEMORY HiCORDER, easily operable simply by browsing the "Settings Navigator" and offering safe, reliable and simple memory recording by practically anyone, anywhere, at any time.
Advantages
Compact design for easy portability
The ultra-compact design has only 40% of the volume of its predecessor MEMORY HiCORDER 8807-01, and weight has been reduced to just 600 grams. The new 8870-20 fits inconspicuously a briefcase, so it can easily be carried even on overseas business trips.
Simple, intuitive operation
The "Settings Navigator" feature easily guides the user through operations, usually without need to refer to the instruction manual. Target waveforms can be reliably captured using only simple memory recorder functions. Pull-down menus provide easy access to settings while viewing input signal levels and waveforms.
Easy PC connection
Connect the MEMORY HiCORDER to a personal computer using the supplied USB cable to easily transfer data that has been automatically saved to the CF card. Use the bundled Windows application program to display and print waveforms from the PC. CSV file conversion is provided for displaying measurement data in Excel spreadsheets. USB 2.0 compliance supports high-speed data transfers.
Ultra-compact instrument with high-speed recording at 1 MS/s
The compact design includes a large two-Megaword (12-bit) internal memory and supports high-speed recording at up to 1 Megasample per second. Reliably capture waveforms of interest to analyze anomalies.
Includes built-in, compact-but-sharp wide QVGA-TFT LCD screen
The high-resolution 4.3-inch WQVGA-TFT waveform monitoring screen, similar to those used in popular video game consoles, has already received praise from many sources for its excellent visibility, despite its small size.
Record high voltage and large current (two isolated measurement channels)
MEMORY HiCORDER 8870-20 supports measurements up to 400V DC by itself, and records waveforms up to 2000V DC and 1000V AC when using the HIOKI Differential Probe Model 9322, as well as current measurements up to 1000A AC when using a clamp sensor.
Primary Application
Elevator maintenance
Automobile fault analysis, testing and road-testing
Power plant and machine fault analysis, testing and inspection
Motor and inverter device fault analysis, testing and inspection
Fault analysis on overseas business trips and at machine installation sites
MEMORY HiCORDER 8870-20
Compact and easy to carry
Easy, intuitive operation
Simple PC connection
Fast, 1MS/s performance despite the compact size
Built-in, compact-yet-sharp QVGA-TFT wide LCD
Easy recording anytime, anywhere!
Note: Test leads are not included. Purchase the leads appropriate for your application separately. AC Adapter 9786 is the only supplied accessory.
Basic specifications

(Accuracy guaranteed for 1 year)
Number of channels
2 analog and 4 logic channels
(standard equipment, logic grounds are common with instrument ground)
Measurement ranges
(10 div full-scale)
10mV to 50V/div, 12 ranges, resolution : 1/100 of range
Max. allowable input
DC 400V
Frequency characteristics
DC to 50kHz (-3dB)
Time axis
100 μs to 5 min/div, 20 ranges,at 100 points/div resolution, three steps of time-axis magnification from 2× to 10×, and nine steps of time-axis compression from 0.5× to 0.001×.
Measurement functions
MEM (high-speed recording)
Memory capacity
12-bits × 2M-Words/ch
Removable storage
CF Card Type I slot × 1, Up to 1 GB
Display
4.3-inch WQVGA-TFT color LCD (480 × 272 dots)
External interfaces
One USB 2.0 High Speed mini-B receptacle: transfers files from the installed CF card to a PC when connected (mass storage class device)
Note: The CF card installed in the HiCORDER appears as a removable disk on the PC, but communication functions such as the capability to change HiCORDER settings from the PC are not provided.
Printer
None
Functions
Numerical calculation, Cursor readout, Scaling function, Screen copy, Gauge display, Waveform data / Setting configurations backup, start condition retention, Auto-save, Instantaneous value or RMS value display (only DC and 50/60 Hz)
Power consumption
Use with the AC ADAPTER 9786: 100 to 240V AC (50/60 Hz) 30 VA Max.
BATTERY PACK 9780: Continuous use 2 hours (AC adapter has priority when both are used)
12V DC supply: 10 to 16V, 10VA Max. (cable available by special order)
Charging functions
The installed battery pack charges when the AC adapter is connected. Charging time is about 200 minutes at 25°C.
Notes: Charging time depends on battery condition. Charging is disabled to protect the battery at ambient temperatures out of 5°C to 30°C.
Dimensions, mass
176mm (6.93in) W × 101mm (3.98in) H × 41mm (1.61in) D, 600g (21.2oz) (with the BATTERY PACK 9780 installed)
Supplied accessories
Instruction Manual × 1, Measurement Guide × 1, AC ADAPTER 9786 × 1, Strap × 1, USB cable × 1, Application Disk (dedicated program for the 8870-20/-21) × 1, PROTECTION SHEET 9809 × 1
hioki 8870存储记录仪详细介绍:hioki 8870存储记录仪
发布日期:2008-6-23 【返回】